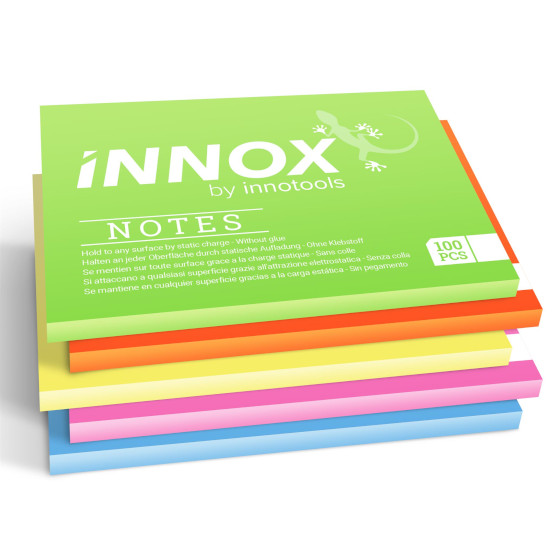 Innox Notes
For office, home, decoration
Innox Notes have dozens of different uses.You can use them for project planning, seminars, agile methods,workshops and meetings.They are an amazing tool for visualizing ideas and projects. The notes can also be cut with scissors, which makes them an excellent tool for drawing, crafting and decoration.
Static Innox Notes are the new generation notes. They stick on both sides with static electricity to all flat surfaces,which makes them more practical,versatile and long-lasting compared to traditional sticky notes. You can write on them with pencils,pens, markers and the back side is dry erasable.With Innox Notes you can turn any space into creative space!
Cling to several smooth and dry surfaces. You can attach the static notes on a several different surfaces such as metal,cork board, brick,textiles,leather,paper and stone. The white back side can be written on with water-based marker,wiped clean, and reused.
Innox products are made of a polypropylene film with a special coating on the surface to create a long-lasting static charge. Innox Notes are 100% recyclable, as they do not contain glue. Thus, the material can be recycled or recovered as energy emissions!
Size: 100 x 70 mm
5 pcs colours yellow, green, orange, pink and blue